UCLan fashion and design team produce isolation gowns
UCLan fashion and design team produce isolation gowns
A small team of fashion and design experts from the University of Central Lancashire (UCLan) have swapped catwalk creations for more practical apparel by producing sought-after isolation gowns for Blackpool Victoria Hospital (BVH).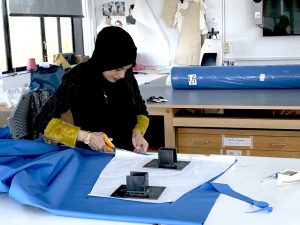 The small production team, led by UCLan Alumnus and part-time lecturer Femida Adam, has worked around the clock to produce an initial batch of 150 gowns having received the specialist fabric from Adlington-based suppliers Carrington Textiles.
Working to an NHS pattern and specification, the UCLan team produced a prototype gown, known as a 'toile', in one day. This was enthusiastically endorsed by staff at BVH who gave the green light to produce the full order for 150 gowns.
Femida, who graduated from the University in 2014 with a first-class degree in eastern fashion design, also runs a successful modest fashion business, Al-Aura, producing occasion wear for celebrations and weddings. Since the lockdown demand for her work has understandably slackened so she was keen to put her design skills to an unfamiliar use.
"It's been really satisfying to work on such a worthwhile project," Femida explained. "There are only six of us and we're all complying with social distancing requirements. Even so, we've managed to organise one of our sewing studios into a pretty slick operation. It's now taking us about 15-20 minutes to cut out and then sew each gown."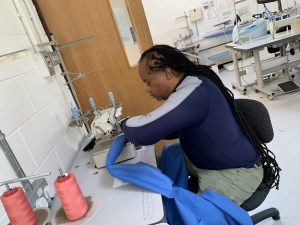 The team, which also includes David Knight, Course Leader for UCLan's Art and Design Foundation Programme, is juggling work on the gowns project with teaching and tutorial commitments. He added: "The design of the gowns isn't too complicated and it's fantastic that we're able to come together and contribute in this way. I think my wife is also quite glad of the peace!"
Kevin McGee, Chief Executive of Blackpool Teaching Hospitals NHS Foundation Trust and the Hospital Cell Lead for the Lancashire and South Cumbria ICS Covid-19 NHS Co-ordination Structure, said: "It is extremely valuable to have additional sources of protective equipment during this challenging period for all health and care staff and we are very grateful to UCLan and to Carrington Textiles for their support and sterling efforts in turning this around so quickly. This adds further meaning to protecting our NHS and saving lives."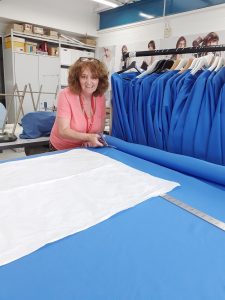 Work on the gowns couldn't have started without the help of Adlington-based Carrington Textiles. In the last two weeks the company has been working around the clock to manufacture over 3.5 million metres of their specialist material for the healthcare industry.
Paul Farrell, Sales and Marketing Director for Carrington Textiles, explained: "We've been supplying organisations from across the UK with our fabric to help protect a wide range of key workers.
"So, when the University contacted us with a brief to produce isolation gowns for Blackpool Victoria Hospital we were delighted to help. It's fantastic news that UCLan's fashion and design team has worked so quickly, not only to produce an approved prototype, but to meet Blackpool Victoria's requirements for 150 gowns. If the University receives further gown orders, we'll do our absolute best to supply additional material."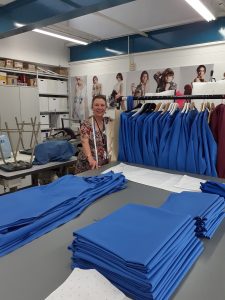 Maria Murray, who heads UCLan's School of Art, Design and Fashion said: "It was great to receive such positive feedback from BVH and we plan to have delivered all of the gowns to the hospital by early this week with a further 200 being constructed and dispatched the following week.
"In many ways this crisis has shown that in our country the skills, creativity and enthusiasm to 'make' are still there and the team working on this project has set a great example of what can be achieved when we all pull together."