Work, play and relax with Blackpool's revitalised business tourism offer
Work, play and relax with Blackpool's revitalised business tourism offer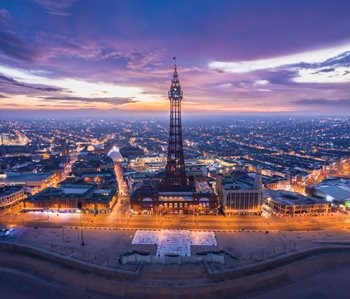 Blackpool is a place like no other; an ambitious resort with a resolute sense of pride and history and a unique bond with the British public.
During the past decade, there has been a gradual repositioning of the resort to create a place with a rich blend of heritage and contemporary attractions. This considered and consistent approach has led to the town cementing its position as the most visited seaside destination in the UK.
Now, with an enviable track record of delivering an exceptional experience for over 18 million visitors every year, Blackpool is revitalising its business tourism offer.
More than £500 million of investment in the town's infrastructure has resulted in the emergence of a vibrant conference and meetings destination that can offer an unforgettable delegate experience.
With a new state-of-the-art conference and exhibition centre nearing completion, an unsurpassed range of unique venues, a fusion of next-generation hotels and all-budget accommodation, world-class attractions, outstanding year-round shows and entertainment, great connectivity and direct transport links, they're ready for the next chapter in Blackpool's glorious conferencing history. Are you?
VisitBlackpool, is there to help you achieve a local, regional, national or international event that will exceed your expectations and ignite your imagination.
In addition, a new website has been launched to help reinstate Blackpool's illustrious reputation as an unrivalled conference destination.
MeetBlackpool.com illustrates how millions of pounds of investment in infrastructure, has resulted in the emergence of a vibrant business tourism offer with unique opportunities for event organisers and delegates on a regional, national and international scale.
Launched by VisitBlackpool, the official destination marketing organisation, the website will be a powerful tool in helping to re-engage with event organisers and revitalise the resort's conference market.
For more information and to check out the new-look MeetBlackpool.com, please click here or call Mandy on 01253 478216.