Stars gather to support UK small businesses when they need it most
On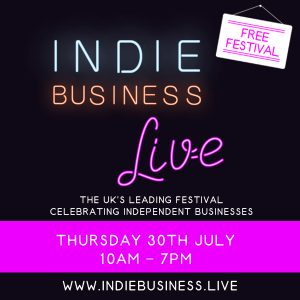 Thursday 30th July, leading uk performers, lifestyle stars and businesses will come together for indie business live, an online festival to support uk independent business.
In between performances, talks and live demo, all types of independent businesses from across the uk will be sharing their stories and showcasing their products.
This is all to raise money for small businesses, by simply asking viewers to spend with them.
Indie business live will take place on Thursday 30th July from 10am – 7pm and is being organised by tv business expert Kate Hardcastle MBE Award winning singer-songwriter Roachford, soul legend Jaki Graham and comedian & impersonator Rory Bremner are the first headliners to be announced, with more to be revealed each week. In between performances, live feeds and videos will showcase the people and stories behind the very best of uk indie businesses.
The stats are sobering. 2 in 5 small businesses face closure because of coronavirus and a staggering 3 million business owners, also known as 'forgotten Ltds' have not received any financial support from the government.
Plans to regenerate high streets could come too late – small businesses urgently need cash and customers if they are to survive.
The event has already received backing from leading uk figures including Dame Tanni Grey Thompson who says, "Independent businesses are a huge part of our economy, but they also make up the heart of community. I am delighted to support indie business live."
Speaking about his involvement in the event, Rory Bremner says, "small businesses are often the dreams of innovative creators. They come to life with energy and support- that's what we need to give them now."
Event founder Kate Hardcastle is regular on BBC, Sky, ITV, CNN and Forbes and runs the international business consultancy insight with passion, which works with some of the world's leading brands. Kate and the business give back 20% of time back to support good causes, via the 'access for all' scheme. It was whilst helping independent retailers stay afloat during the coronavirus pandemic that kate realised many were at crisis point and need urgent support.
Kate says, "myself and my team have been working tirelessly to support indie businesses throughout the pandemic. There is huge pressure on the uk retail industry right now, which impacts smaller businesses much harder.  It therefore made perfect sense to combine the best of business and entertainment, to give our struggling independent businesses some vital help."
© 2023 Marketing Lancashire