State-of-the-art 'extra care' facility in Chorley now accepting waiting list applications
Source: Chorley Council
5 February 2021
PRIMROSE Gardens in Chorley is now accepting applications to join its waiting list.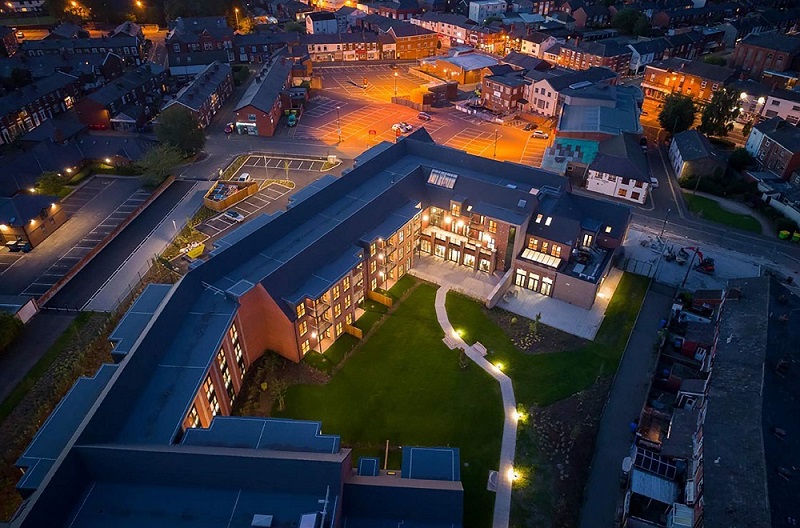 The 'extra care' facility on Fleet Street, Chorley – which opened in Autumn 2019 – is a residential village open to individuals aged 55 or above who require additional care and support to help look after themselves.
With trained health professionals available close at hand 24 hours a day, an extra care facility gives residents and their family that peace of mind afforded by round-the-clock emergency care and support.
And now, Chorley Council – the operator of Primrose Gardens – is appealing to the Chorley community to get in there fast before demand skyrockets.
To join the waiting list, visit https://primrose-gardens.com/register/ and follow the instructions.
In addition to excellent healthcare services and emergency support, Primrose Gardens prides itself on giving residents as much independence as they want.
For example, tenants each get their own self-contained apartment – featuring its own bedroom, bathroom, kitchen, living space and outdoor terrace.
Councillor Alistair Bradley, Leader of Chorley Council, said:
"My Cabinet members and I are all well aware of the amazing quality of the accommodation and care services at Primrose Gardens – and we were not surprised to see it reach full capacity so quickly.
"Knowing how pleased the residents are to be living at Primrose makes me feel very happy and proud of what this council has done in bringing this extra care facility to the borough.
"However, we are also aware that vacancies do become available and we want eligible people living in Chorley to know all about Primrose because it could be the ideal next step for them – so if you are 55 or over with certain care and support needs, then I would really recommend joining our waiting list because I'm sure you would absolutely love Primrose Gardens.
"I have been on a tour round myself and I must say, the facilities are outstanding.
"Due to COVID-19, at the moment, some parts of the residential village – such as the café, the hairdresser's and beauty salon, the dance studio, the quiet lounge and the communal areas – are not available to residents but in time, when it is safe to do so, these will reopen and you will be able to enjoy them."
Primrose Gardens has a total of 65 apartments – 48 one-bed, and 17 two-bed – spread across three floors.
Built to Homes England standards – incorporating the principles of HAPPI (the Housing Our Ageing Population Panel for Innovation) – the accommodation at Primrose Gardens is dementia friendly, modern and state-of-the-art.
The website for Primrose Gardens is: https://primrose-gardens.com/
If you would like to find out more information about Primrose Gardens – what it offers, rental costs and the applications policy – go to: https://primrose-gardens.com/information/
You can take a look at the brochure here: https://indd.adobe.com/view/32347c6e-363a-4254-b4c4-4ee457b9744e
As mentioned above, due to COVID-19, some facilities within the Primrose Gardens residential village are currently closed, and these include:
Onsite café – temporarily closed
Onsite dance studio – temporarily closed
Onsite hairdresser's and beauty salon – temporarily closed
All communal areas – temporarily closed
Quiet lounge – temporarily closed
However, during 'normal', pre-Covid times, these were all very popular and everyone at Primrose Gardens looks forward to seeing them reopen in the not-too-distant future.
The social life at Primrose is very important – helping to tackle isolation and loneliness – and before COVID-19 struck (and of course, after the pandemic ends) Primrose Gardens was, and in time again will be, a really cheerful, fun, social place to live.
There is of course the dance studio, the café, the hairdresser's – as well as events and activities held all year round which, once COVID-19 restrictions are lifted, will return and will play a hugely important part in the lifestyle available to those Primrose residents who are interested.
There is detailed information on the Primrose Gardens website about how COVID-19 has affected daily life at the residential village, and it details all the safety measures, adaptations and changes implemented to make the entire facility is Covid-secure. Find out more online here: https://primrose-gardens.com/coronavirus-update/
Councillor Bradley commented: "The safety of our residents at Primrose is of utmost importance to us – at all times, but especially now, during this COVID-19 pandemic – and we have made numerous adaptations to our rules and procedures to make sure everyone is absolutely safe and secure. We have closed some facilities to reduce interaction and the risk of infection between residents, and we have made other changes, such as making sure our staff and any contractors declare themselves symptom-free before attending the site."
© 2023 Marketing Lancashire