Stuart Hirst, Mayor of the Ribble Valley cuts the rope on new Shepard's Hut at Ribble Valley Retreat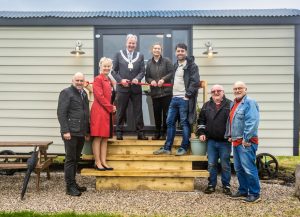 English Tourism Week is in full swing in one of Lancashire's tourism hot spots, and to mark the occasion, the Mayor of the Ribble Valley, Stuart Hirst has been visiting some of the wonderful places on offer in the district.
On his whistle-stop tour of this beautiful area, the owners of Ribble Valley Retreat were delighted to be included in his itinerary.
Emma and Peter Turner have developed a parcel of their scenic land into a luxury glamping site as part of a farm diversification, and quite successfully it would seem. In February this year they scooped 2 prestigious Lancashire Tourism Awards and now celebrate their current status as 'New Tourism Business of the Year' as well as 'Camping, Glamping and Holiday Park of the Year'.
During his visit the Mayor officially opened their brand new Shepherd's Hut with the cutting of a ribbon at its entrance.
The luxury hut complete with en-suite bathroom and underfloor heating is the 2nd of its kind and provides a cosy retreat throughout the year. In the summer months three luxury Bell Tents are a great choice for guests looking to enjoy the outdoors in the most sophisticated way.
A train station directly opposite, makes Ribble Valley Retreat a perfect base for guests looking to explore the area and enjoy its rich heritage and gastronomic experiences. Whalley is just 4 minutes by scenic rail journey and Clitheroe is only 6 minutes beyond.  And with a strong focus on the guest experience, a backdrop of the Forest of Bowland and majestic Pendle Hill, its no wonder this lovely Lancashire option is being heaped with praise and recognition.
© 2023 Marketing Lancashire