Taste Lancashire Ambassadors' lunch on Lancashire Day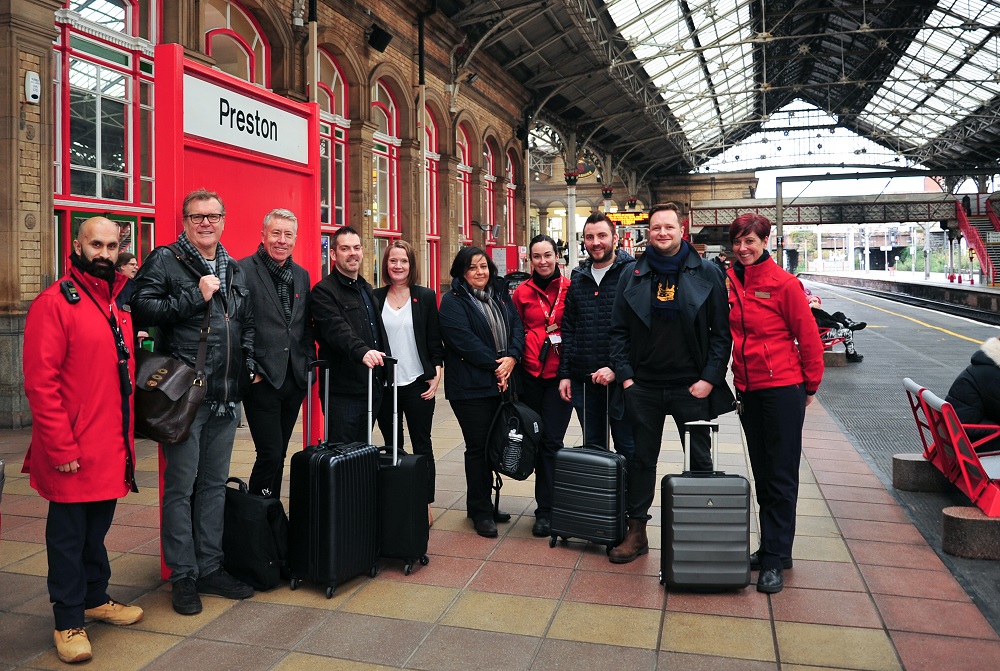 On the eve of Lancashire Day, the 26 November 2019, Marketing Lancashire and eight of the county's most celebrated chefs, all Taste Lancashire Ambassadors,  made their way to London to prepare a celebratory lunch for some of the country's top food writers at the Guild of Fine Food in Southwark, London.  Travelling in style thanks to support from Virgin Trains.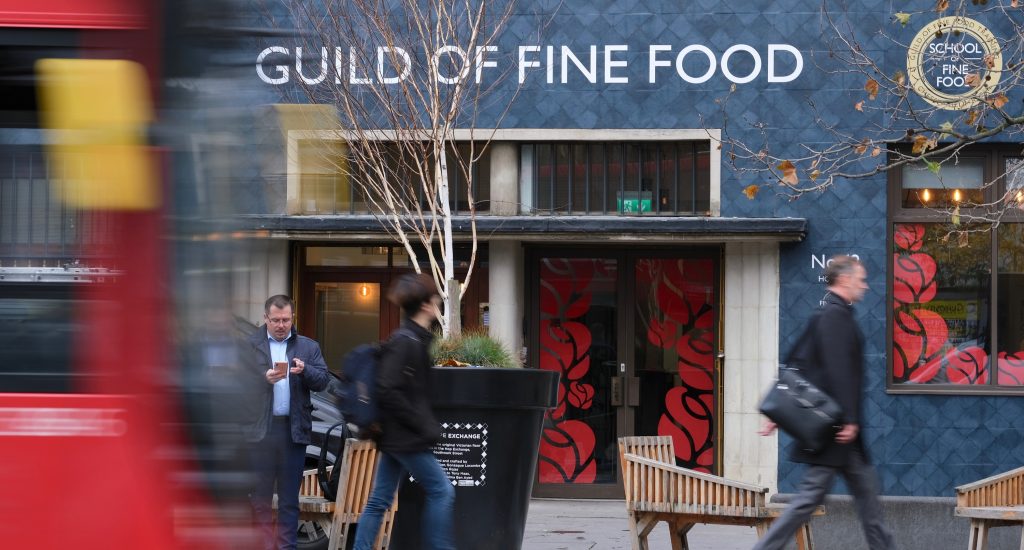 On Lancashire Day itself, Wednesday 27 November, the venue was dressed and ready for the 40 guests to arrive.  The guest list included food writers, broadcasters and bloggers all keen to meet Marketing Lancashire's Taste Lancashire Ambassadors and to learn more about our Taste Lancashire campaign, designed to increase awareness of Lancashire's exceptional offer for gourmet travellers. Awaiting the guests was a six-course taster menu created by our Taste Lancashire Ambassadors and introduced by ambassadors Nigel Haworth and Paul Heathcote MBE.
Guests were welcomed with drinks supplied by The Whalley Wine Shop, winner of the Decanter Best Local Wine Shop 2019 award, as well as gin and tonics provided by Taste Lancashire Producer award-winner  Goosnargh Gin and flower-based soft drinks supplied by Calyx Drinks.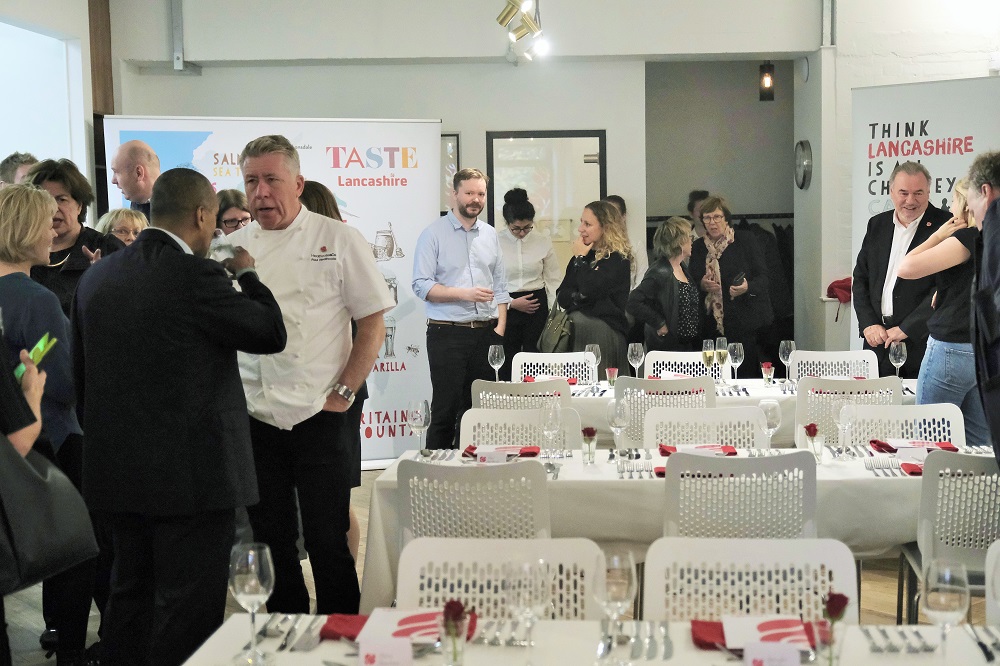 First course of the day was Oli Martin's Lancashire Rose – made with Ascroft's beets, pickled rose, fermented blackcurrant and perilla.  The perfect start to a Lancashire Day lunch.  As Head Chef of Taste Lancashire Restaurant of the Year, Hipping Hall,  Oli is no stranger to the limelight as he reached the final of last year's Masterchef – The professionals.  Where Greg Wallace proclaimed his innovative Spaghetti Bolognese dessert was simply 'genius'.

Second course was created by Executive Chef of the Seafood Pub Company including Top 50 Gastro Pub The Assheton Arms , Mark Taft.  Mark's dish was a Smithy mushroom consomme with Lady Clitheroe's Jerusalem artichoke and Pilling sands sea herbs. This pretty  plate was set and the consomme added at the table.

Next up was Chef Patron of Parkers Arms, Stosie Madi with her curried mutton pasty, made from aged Burholme Farm mutton in a rendered mutton fat pastry, with pickled Lancashire vegetables.  There was no denying the popularity of Stosie's Lancashire pasty – with some of the writers seen leaving with tin-foil wrapped extras!

Of course Lancashire Day wouldn't be the same without a dish showcasing bounty from our 137 mile coastline.   Head Chef of the Cartford Inn, Chris Bury had visited Fleetwood docks for his Turbot, which was served with Morecambe Bay oyster sauce, white cabbage, home cured lardo and burnt olive oil.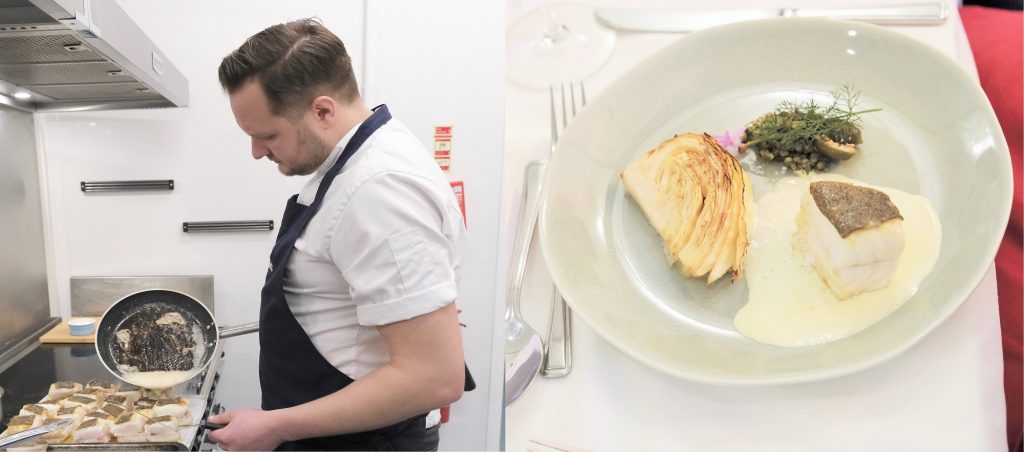 The fifth course was created by Mark Birchall, Chef Patron of 2 Michelin Star Moor Hall.  Mark served roast fallow deer, sea buckthorn and Crown Prince squash with a delicious surprise ragu.

Last but certainly not least was dessert created by Steven Smith, Gastro Pub Chef of the Year, from the Freemason's at Wiswell.  Steven's simply named Vanilla Slice, showcased Wiswell village apple, brown butter ice-cream and Benedictine caramel.  There was great interest as  Steven explained the history of how Lancashire's love of Benedictine came about.  Soldiers from East Lancashire got a taste for Benedictine during WW1, as they struggled to keep warm in the trenches of Normandy. Now the Bene'n' hot, the liquer served with hot water, is a regular nightcap served in and around Burnley.  With one working men's club getting through over 1,000 bottles a year – making it the world's biggest consumer of Benedictine.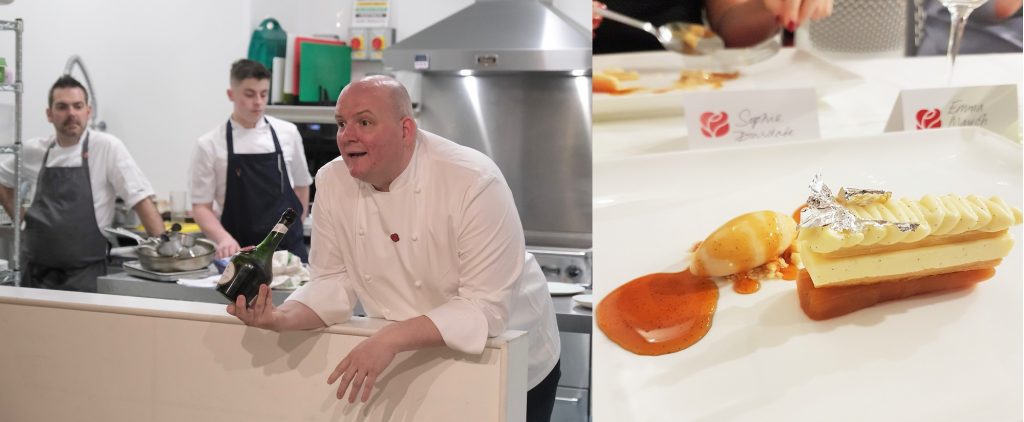 Throughout the lunch guest shared their experience on social media and took every opportunity to speak directly with the chefs. Closing the event, Rachel McQueen, Chief Executive of Marketing Lancashire, thanked the Taste Lancashire Ambassadors and sponsors Virgin Trains, Wellocks and The Whalley Wine Shop. 

The Taste Lancashire Ambassadors stood shoulder to shoulder as the guests showed their appreciation with rapturous applause.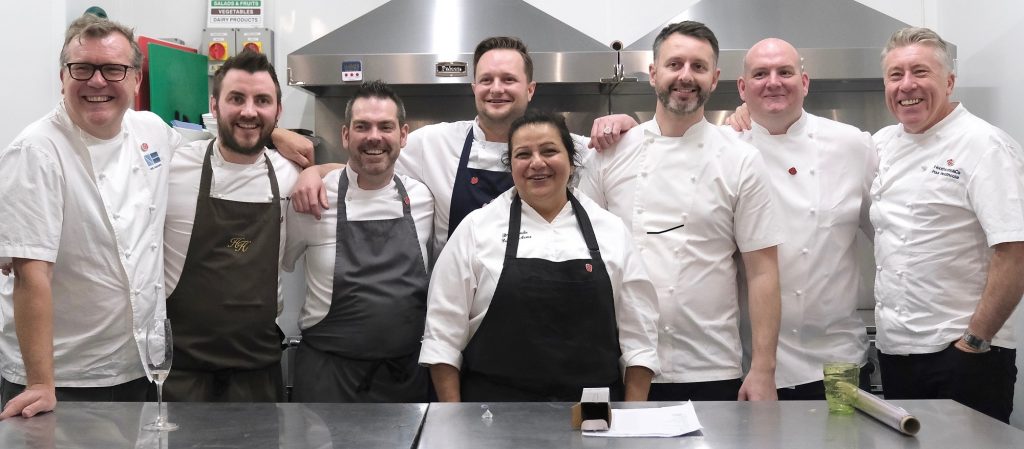 Each of the guests took away an information pack and goody bag which provided more delights from Lancashire generously supplied by: The Bee Centre, Calyx,  Choc Amor, Goosnargh Gin, Old School Brewery
The following suppliers also supported the Lancashire Day lunch:
H&P Ascroft, Booths, Burholme Farm,  Midland Fish Company, Pugh's Piglets, Smith Mushrooms, Wellgate Fisheries.
Our  THANKS to all of them – Happy Lancashire Day 2019
© 2021 Marketing Lancashire