Thousands flock to Accrington for Food and Culture Festival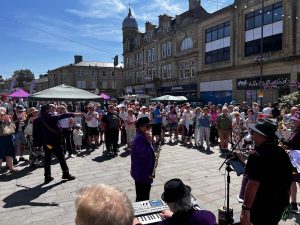 Over 12,000 people flocked to Accrington town centre for the spectacular Accrington Food & Culture Festival on Saturday 3rd June.
The event, sponsored by North Lancs Training Group (NLTG), Hyndburn Borough Council, Cardboard Box Company and Financial Affairs, was officially opened by the Mayor of Hyndburn, before a sensational day of entertainment including live cooking demonstrations, a war re-enactment, a memorable Spitfire flypast, a stunning artistic display showcasing the flags of the world, competitions, the very best of Lancashire produce, continental food stalls, cooking workshops exploring delicious foods from around the world, and much more!
Netflix star and award-winning cake artist, Molly Robbins, compered the main stage from 10am-4pm, as well as showcasing her extreme cake decorating skills with two fascinating demonstrations.
Molly was joined on the main stage by NLTG Hospitality Tutor, Mark Chapman who produced a tasty, cost-effective take on a penne pasta with traditional Italian sauce, as well as owner of The Crafty Fox, Paul Fox, who prepared a delicious chicken tikka naan and a Mexican-style steak and king prawn wrap.
Visitors to the event also got to experience the very best of Lancashire produce with over 60 food stalls including cheese, handmade breads, local beers and much more, while there was also a fantastic array of continental cuisine from around the world, featuring Turkish, Caribbean and Spanish.
Accrington Market Hall played host to an extra special 'Culture Event' which included a tremendous display of flags from around the world, which visitors were invited to take selfies next to, with the best selfie winning £50 cash.
There was also 'World Food' play activity stalls for the youngsters, while 'Cook Stars' ran three free cooking workshops where children under 11 learnt how to cook Syrian Falafel Sandwich, Asian Veggie Samosas and Ukrainian Honey Babka.
The Market Hall was also home to some fantastic live acts including a DHOL Drummers performance by Northern Dholis, Clog Dancing from Oakendale Clog and Music, and world renowned Nasheed Artist, BBC Radio Lancashire's Hussnain Hanif.
With Hopscotch on the town square with a Roman Foot Soldier, roaming performances by ska band Blowjangles, the chance to win 200 free footballs in the Accrington Stanley Community Trust penalty shoot-out, and Accrington Stanley kits plus What More bakeware on sale via the Official Accrington Stanley Supporters Trust, this really was a day for the whole community and all the family to enjoy.
At 1pm, hundreds gathered in the grounds of St James' Church to witness to a spectacular WWII war re-enactment as part of Accrington's D-Day commemorations, which was started by the town cryer and ended with a remarkable performance by a lone piper from the world famous Accrington Pipe Band.
Following the re-enactment which was compered by BBC Radio Lancashire's Stephen Lowe, visitors enjoyed a flypast over Accrington town square from a Supermarine Spitfire, with many enjoying the spectacle from the top of Hyndburn Borough Council's specially commissioned Town and District Transport Trust, gold Coronation bus.
Children attending the event then got the chance to receive a free Hershey bar and toy parachute man, sponsored by Pendle Hill Properties, with 250 of each handed out on a first come, first served basis, to celebrate the 75th anniversary of the Candy Bomber.
A fantastic 1940s scene was also created during the event, with 1940s singers Christopher and the Robins performing in front of fantastic crowds in the grounds of St James' Church, with many of them attending in 1940s dress.
Cllr Marlene Haworth, Leader of Hyndburn Borough Council, said: "Wow… what an incredible day it has been for our town and our community, #AmazingAccrington in collaboration with Hyndburn Borough Council and our wonderful Accrington Market have done it again! From the food to the culture, this really was a very special event for everyone involved and we thank everyone for joining us for a fantastic day that will last long in the memory."
Sara Britcliffe, MP for Hyndburn and Haslingden, commented: "What an amazing event this has been once again for our local economy. It has been great to see the community coming together and enjoying themselves in the sunshine on our wonderful town square, the town centre has been very busy!"
Sameena King, Market Manager at Accrington Market, said: "We have welcomed thousands of people through our doors and not only have they enjoyed the fantastic free cultural attractions on offer, but they have also embraced #ShopLocal and both our traders and pop-up stalls have experienced an extremely successful day."
Murray Dawson, Chair of #AmazingAccrington, added: "We are so proud to have put together one of the best events Accrington has ever seen. From the incredible food on display, to our spectacular war re-enactment and Spitfire flypast, it was great to see so many people enjoying themselves down here in Accrington town centre. The challenge every year is to deliver more and we are delighted to have achieved that."
Gareth Lindsay, Managing Director at North Lancs Training Group, said: "This festival is one of the most popular in the calendar and it lived up to its expectations and more! We are immensely proud to be main sponsors of such a fantastic community event and we hope everyone enjoyed it as much as we did. We had a great day and we also had lots of discussions on the day about Apprenticeships in the hospitality and catering industry."
For more reaction from the 2023 Accrington Food & Culture Festival, visit: https://www.amazingaccrington.co.uk/
© 2023 Marketing Lancashire