Blackpool Transport Hosts Recruitment Open Day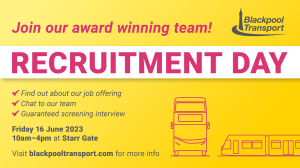 Blackpool Transport are hosting an open recruitment day on Friday 16th June for Bus Drivers, Trainee Bus Drivers, Tram Drivers, Conductors and Engineers.
The event will take place from 10am until 4pm at Starr Gate Tram Depot. They are offering competitive pay, flexible working hours and part-time options for selected job roles.
The recruitment day will involve talking to current staff about their roles, exploring their various vehicles and a short screening interview. This initial interview is for applicants to show their interest in specific roles before completing a full application.
Successful applicants will be contacted soon after the event by the Blackpool Transport HR team.
James Clough, Commercial and Finance Director at Blackpool Transport said: "This open day is an opportunity for us to meet the next generation of talent at Blackpool Transport. We're excited to recruit across the whole company and show everyone interested exactly what we're about. If you're interested in a new career path, come and take the first step by meeting us."
Applicants can claim free travel to and from the event using Blackpool Transport buses or trams by registering interest on their website www.blackpooltransport.com.
© 2023 Marketing Lancashire