UCLan landmark agreement with Tashkent Institute of Textile and Light Industry
Initiative aims to spark a new wave of creative entrepreneurs in the both the UK and Uzbekistan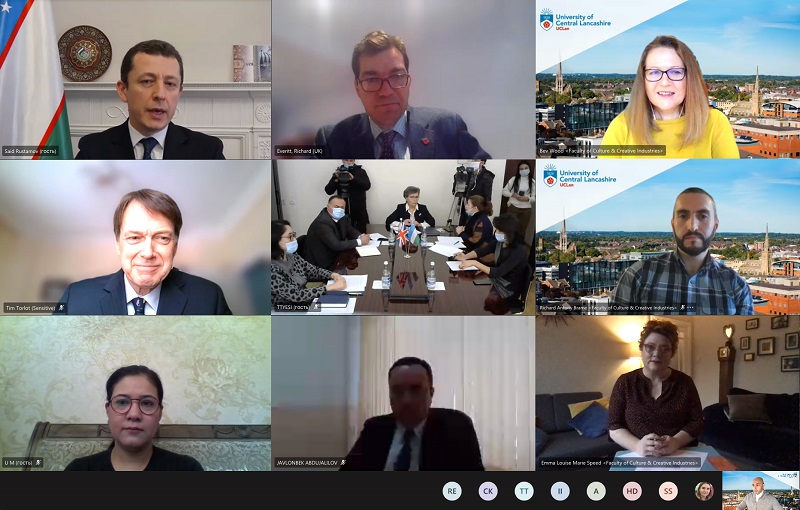 Celebrating International Education Week, the University of Central Lancashire (UCLan) has signed a memorandum of understanding (MoU) with the Tashkent Institute of Textile and Light Industry (TITLI), Uzbekistan.
The televised signing of the agreement, which took place at the Uzbek Embassy in London via Zoom, aims to strengthen educational ties, stimulate the exchange of knowledge and ideas, champion innovation and create new opportunities for young people.
The new link between UCLan and TITLI is one of the new Creative Spark* partnerships developed by the British Council to boost relationships between universities and creative institutions in both Uzbekistan and the UK.
Establishing innovation hubs and exposing students to the rigours of business thinking and the development of their skills is central to the initiative.
UCLan Vice-Chancellor Professor Graham Baldwin said: "We have been collaborating with TITLI for a number of years and this agreement is the culmination of that work and of mutual benefit to both partners.
"Preston and Tashkent have strong historical links with the fashion and textiles industry while UCLan and TITLI also share the same educational values to unlock student potential though real-world teaching and learning.
"We hope that our experience in teaching fashion-related programmes for more than 50 years can help Uzbekistan to develop its own leaders to manage, explore and enhance its own fashion industries in what is a fast-emerging economy.
"In return, we hope to increase our own knowledge and research base in the area of modest fashion which is a real growth area for western countries."
Richard Everitt, Regional Director Education and Society, Wider Europe added: "We are delighted the British Council's Creative Spark programme has supported the partnership between these two institutions. Between them they have almost 300 years of education experience to draw on to innovate together for the future."
Picture above shows:
Left to right line 1
HE Said Rustamov, Ambassador of the Republic of Uzbekistan in London
Richard Everitt, Regional Director, Education and Society, Wider Europe, British Council
Bev Wood, Project Manager, Creative Innovation Zone, UCLan
Left to right line 2
HE Tim Torlot, Her Majesty's Ambassador
Kholida Komilova, Acting Rector, TITLI
Richard Brame, Project Manager, Creative Innovation Zone, UCLan
Left to right line 3
Umida Vakhidova, Head of Department, TITLI
Aliyor Tilavov, Counsellor, Embassy of the Republic of Uzbekistan in London
Emma Speed, Director of Creative Innovation Zone and Enterprise, Faculty of Culture and the Creative Industries. UCLan
© 2020 Marketing Lancashire