UClan recognised for local regeneration, enterprise and research partnerships
The University of Central Lancashire's (UCLan) dedication to local regeneration, enterprise and research partnerships has been recognised by a new national framework.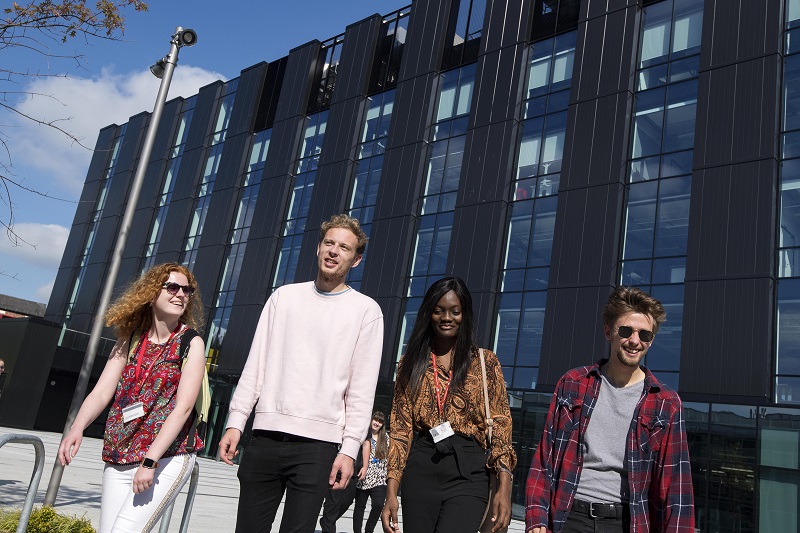 In the first Knowledge Exchange Framework (KEF), UCLan scored in the top 20% of all English higher education providers in three areas – local growth and regeneration; skills, enterprise and entrepreneurship; and working with the public sector and third sector. In addition, the Institution's research partnerships and public and community engagement have been ranked in the top 40%.
Professor StJohn Crean, Pro Vice-Chancellor for Research and Enterprise, said: "The KEF is the first time the rich contributions that English higher education providers make, both economically and socially, on both local and national levels, has been recognised.
"I'm delighted we have scored so highly in these areas, especially in our research partnerships as we are ahead of our cluster average. It's fantastic recognition for the hard work being undertaken across the University. As an institution we are committed to education, research and training that will increase qualifications and skills and boost inclusion and productivity across Lancashire and the North West."
As an anchor institution, UCLan is fully immersed within the regional growth and regeneration ecosystem, through its active participation in and support to the North West University's Economic Development Unit, chambers of commerce and industry, local authorities, the Allied Health Science Network, various NHS Trusts, Burnley Bondholders, Preston Partnership and sector bodies such as the North West Aerospace Alliance.  The University represents Lancashire at regional and national levels including discussions with Government departments.
It works with employers, particularly small and medium sized enterprises (SMEs), to develop and deliver regeneration and re-skilling programmes. The range of support is varied but includes helping local employees gain new skills and qualifications through continuous professional development courses, professional training and higher and degree apprenticeship programmes. UCLan now has over 1,100 employees from more than 750 businesses gaining higher level skills and qualifications through degree apprenticeship programmes.
The University's Centre for SME Development also networks with more than 1,000 Lancashire SMEs and supports colleagues and partners to identify opportunities to link SMEs with researchers and with students for projects that deliver local economic growth. The Centre was recently highlighted within the Government's Industrial Strategy White Paper as a headline example of university-business collaboration.
Regeneration within Preston can also be seen in UCLan's £200 million Campus Masterplan, as it is transforming the appearance of the University Quarter with state-of-the-art new buildings and public spaces.
During the Covid-19 pandemic, the University's close ties to the public sector led to medicine and nursing students graduating early to help North West NHS Trusts deal with the surge in demand for urgent health care.
The University has long-standing research partnerships with a wide variety of corporations including NASA, Google, BAE Systems, NHS, People's Health Trust, British Cycling, Silent Night and Recycling Lives Ltd.
The KEF has been undertaken by Research England and involved 117 institutions. It compares institutions on a like-for-like basis, with similar institutions being grouped together with their peers in 'KEF clusters' based on factors like their size, specialisation and the intensity of their research activities.
Professor Dame Ottoline Leyser, Chief Executive Officer of UK Research and Innovation (UKRI), said: "UKRI values the diverse and varied contributions that our higher education institutions make to society. The Knowledge Exchange Framework, published today by Research England, reflects and celebrates this diversity.
"The KEF also brings together rich accounts of how our universities engage in their local areas, contributing in varied and often innovative ways to their local communities and economies. As well as researchers and innovators, the activities captured in the framework highlight the diversity of essential roles – from technicians and project managers, to technology transfer professionals – in connecting discovery to prosperity and public good."
Executive Chair of Research England David Sweeney said: "Universities engagement with society through Knowledge Exchange is an essential part of their mission alongside research and teaching.
"The Knowledge Exchange Framework will help universities understand where their strengths are, relative to others with similar missions. It showcases a diverse picture of the tremendous work they do in their places, nationally and internationally."
© 2023 Marketing Lancashire