UCLan triple success at Oscars of university world
Source: University of Central Lancashire
30 November 2018
The University of Central Lancashire (UCLan) has won a record three categories at the 2018 Times Higher Education (THE) Awards, more than any other university on the night.
Widely regarded as the Oscars of the higher education sector, this year UCLan collected gongs for best International Collaboration of the Year, Excellence and Innovation in the Arts and Most Innovative Contribution to Business-University Collaboration.
Joint Institutional Head Liz Bromley, who collected the International Collaboration of the Year award from host Sandi Toksvig, said: "To walk away with more awards than any other University is absolutely outstanding, and I couldn't be more proud."
Dr Lynne Livesey, Joint Institutional Head, added: "The fantastic work, which is taking place across the institution, has been deservedly recognised through these prestigious industry awards."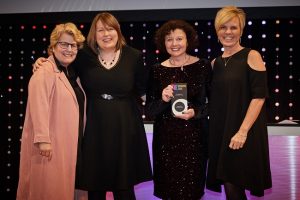 UCLan Chancellor Ranvir Singh, who was in attendance at the awards, tweeted: "So proud of @UCLan as Chancellor to say we won THREE awards tonight in Arts, Business and International work BOOM !! #THEAwards"
UCLan's International Collaboration of the Year winning entry was for the University's efforts to relocate nearly 650 medical students and staff from the American University of the Caribbean School of Medicine (AUC) who were displaced after Hurricane Irma hit the Dutch-French island of Sint Maarten in September 2017. The University has already won three national education awards for this aid effort.
The Excellence and Innovation in the Arts award related to UCLan Publishing, the only student-run, trade but not-for-profit publishing house in the world. It is breaking the mould of how a publisher usually operates, empowering students to 'learn on the job'. This year the team has enlisted big name authors such as Jaqueline Wilson, Jane Johnson and A J Hartley, to give the students experience of big trade, commercial publishing. A J Hartley's book, Cold Bath Street, was promoted through UCLan Publishing PR and has become a national bestseller, with Waterstones taking it as a promotional title nationally.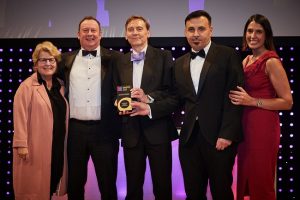 Debbie Williams, the brainchild behind the Publishing House, said: "I am over the moon to win this award. We have worked extremely hard to bring forward a ground-breaking new type of publisher. We are the only student-led trade publishing house within a University in the world. We've proved that it's possible to make a bestseller and we will continue to push the boundaries of what is possible. Winning this award is a real thumbs up for our efforts. Onwards and upwards!"
A Knowledge Transfer Partnership between UCLan and Recycling Lives, a national recycling and waste business, scooped the Most Innovative Contribution to Business-University Collaboration prize. This partnership has worked together to turn automotive shredder residue from old vehicles into a saleable product and electrical energy, greatly reducing environmental impact and diverting material away from landfill.
Professor Karl Williams, who led this initiative, said: "I feel honoured that we have won this award as it recognises the hard work that both UCLan and Recycling Lives have put in over the years to creating this long-term collaboration."
The University had been shortlisted in a record-breaking five categories which also included Outstanding Entrepreneurial University and Outstanding Contribution to the Local Community.
THE Editor John Gill said: "At a time when universities face challenges and headwinds, when politics and social attitudes can seem to call into question many of the things that they stand for and hold dear, it is particularly important to champion the values, creativity and dedication of those who live and breathe higher education.
"As ever, our shortlists represent the best of the best, but our judges also reported that this year's entries were the strongest that they could remember, so all those honoured should be incredibly proud. It's THE's great honour to help celebrate their success."
Judges' comments
International Collaboration of the Year
The judges said that they were "impressed by the speed and thoughtfulness of the response and the positive impact that it had had on public perceptions of UCLan and universities more generally". They also recognised that the collaboration led to a lasting partnership between the two institutions.
Excellence and Innovation in the Arts 
"UCLan Publishing is a resourceful and successful enterprise," said the judges, "which successfully combines student engagement and training with an imaginative venture to disseminate writing by new and established authors."
Most Innovative Contribution to Business-University Collaboration
An organisation that uses a recycling business to support charitable work won this category after collaborating with a university on a project described as a "game changer" for car recycling.
© 2022 Marketing Lancashire