Gordon Taylor OBE Invests in Blackburn & Darwen Youth Zone's 'Next Level' Sports Offer
Blackburn & Darwen Youth Zone, a charity dedicated to young people, prominently providing over 60 hours of services when schools are closed. With over 4,500 members benefiting, their provision takes place at an state of the art centre in Blackburn, our satellite site in Darwen and within the community, open to ages 5- 19, with a dedicated SEND and Employability services open to young adults up to the age of 25. 
Blackburn & Darwen Youth Zone proudly announces the launch of their ambitious 'Next Level' sports and physical activity program. The program, co-designed by children and young people themselves, aims to provide everyone aged 5 to 25 access to sports and an enhanced level.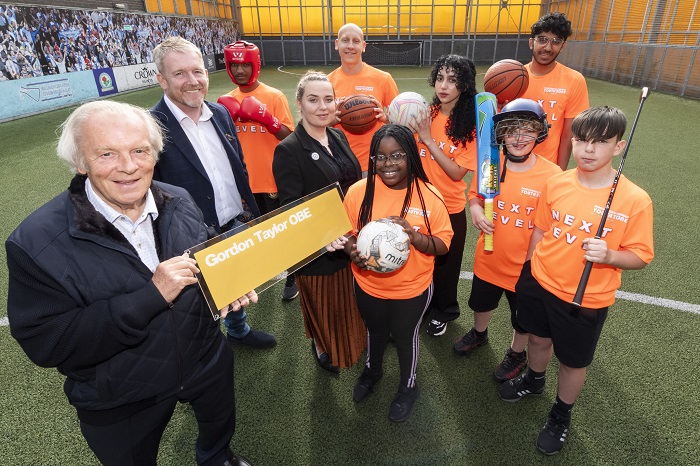 Thanks to the kind support and investment of Gordon Taylor OBE, this initiative will enhance the already exceptional sports and physical activity services offered at Blackburn & Darwen Youth Zone. 
Gordon's investment will provide funding for a Sports Manager who will assist with the 'try', 'train', 'teach', and 'team' aspects of sports programs for the Youth Zone.
Gordon Taylor OBE, a Patron of Blackburn & Darwen Youth Zone, said: 
"The greatest lessons in your life need not be in the classroom or lecture theatre but in the Gym and Sporting Arena! Exercise of any description is good for both physical and mental health. My life in football has been a pleasure and privilege, always illustrating the values of support, well-being, fitness, and dedication, but above all else, team spirit and cooperation and being stronger. Every successful team has succeeded together! Let Blackburn & Darwen Youth Zone be that team to guide you on your pathway to fitness, well-being, and the enjoyment of participating in Sport."
Blackburn & Darwen  Youth Zone is a safe place for young people, offering various activities such as climbing, football, basketball, dance, music, arts and crafts, music production, and more, all free of charge. In addition to the universal youth club offerings, the centre provides enriching projects aligned with its strategic pillars: Skills & Aspirations, Health & Well-being, and Cohesion & Social Integration. 
The 'Next Level' sports offer aims to tackle health inequities young people face and enable them to thrive through the power of sports and physical activity. It seeks to counteract the adverse effects of isolation, inactivity, and social exclusion, which have intensified in the past two years, mainly due to the challenges posed by the Coronavirus pandemic.
As a result of the successful investment, they have been in ongoing discussions with local golf clubs to include a 'Golf Provision' in the 'Next Level' program. This initiative would provide youth zone members with an opportunity to try golf, which they may not have had without the investment.
Aaron, a Blackburn & Darwen Youth Zone member, said: 
"My name is Aaron; I'm 17 years old. After moving from Manchester to Blackburn in 2020, my mum wanted me to start attending the boxing club at Blackburn Youth Zone to keep me off the streets. I don't want to go into the detail, but I was getting into all the wrong things a young man shouldn't be doing. I'm not going to lie; I didn't want to go at first, but ever since, I've not looked back. Over the years since starting, I trained, dedicated myself, and in late 2022, I became the regional and national champion. I can't thank the coaches at Blackburn Youth Zone for their support of me as a person, their belief, and their commitment. I'm a changed person, ready to take on the world, and my ambition is to reach the Olympics team."
Wayne Wild, Trustee of Blackburn & Daren Youth Zone, emphasised the significance of the 'Next Level' sports offer and said:
"Blackburn & Darwen Youth Zone presents an opportunity for individuals, companies, and grantmakers to collaborate and contribute to this essential initiative. The provision of funding plays a pivotal role in empowering the youth and fostering lasting positive changes within the community. 
The ultimate goal of the 'Next Level' vision is to open up new opportunities and avenues for young people to engage in constructive activities, thereby creating an equitable playing field for all and addressing any potential barriers to their progress. 
If you represent a business, individual, a sports club, or a funder and are keen on supporting our "Next Level" sports offer, we encourage you to reach out and connect with us".
For more information on how to support the 'Next Level' sports offer, please contact [email protected]. 
© 2023 Marketing Lancashire