UCLan welcomes first cohort of vet degree students
The first cohort of veterinary medicine students has enrolled at the country's newest vet school.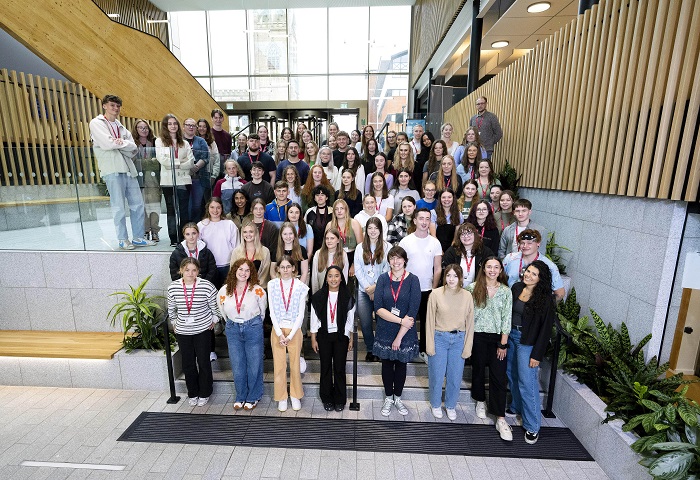 A total of 78 undergraduates have signed up to study on the University of Central Lancashire's (UCLan) five-year Bachelor Veterinary Medicine & Surgery (BVMS) degree.
The innovative nature of the new course will see the students, who will be based at the Preston Campus, undertake clinical placements in their first year of study and also utilise cutting-edge technology in their training.
Dr Heather Bacon OBE, Dean of UCLan's School of Veterinary Medicine, said: "It's a landmark day for the University as we've welcomed our first cohort of veterinary medicine students through the door.
"So much hard work has been done to get us to this point and I'm very proud of our amazing Vet School team for making it happen, as well as grateful for the support of the wider University – it's been a real team effort with support from so many amazing people, and I'm confident that our students will have a fantastic experience here.
"The demand for places on the first year of our BVMS course was huge and I'm thrilled we've been able to enrol so many enthusiastic student vets on to our programme."
The practically focused curriculum is 'hands-on' from Year 1. Innovative face-to-face teaching uses digital technologies from the outset while the students will be among the first in the country to use specialist Anatomage vet tables.
Molly Martin is among those who have signed up for the new course. The 22-year-old, from Manchester, said: "I'm very excited to be one of UCLan's first vet students. I've always wanted to be a vet but didn't get a place when I was looking at going to university at 18. I went and did an undergraduate course down south but wanted to move back up north and follow my dream so when I heard UCLan was starting a vet school I thought it would be ideal."
The state-of-the-art nature of the Vet School was a huge draw for 22-year-old Peter Parrish, from Grimsby. He said: "I have always preferred animals to humans and loved my time as a volunteer at an animal shelter. When I saw UCLan was starting a vet, I couldn't wait to apply as I knew it would be hands on and involve the very latest in vet technology."
The University has taken a different approach to selecting students for the BVMS course to widen the participation in the profession, using a variety of GP veterinary partners to evaluate students and a range of skills-based tests.
In particular, the Vet School is focussed on supporting students in General Practice or 'Primary Care' career pathways.
Dr Pete Down, Associate Dean for Undergraduate Education in UCLan's School of Veterinary Medicine, said: "We recognise the multifaceted challenges the profession is facing at the moment, but many of us have spent significant time out in practice and recognise that it can be a fantastic career.
"Additionally, first-opinion vets provide essential services to the pet-owning public, equine, and farming industries. Our curriculum focusses on the provision of contextual-care and encourages vet students to see general practice as a fantastic career in and of itself. Also, whilst diversity in the profession has traditionally been a challenge, our student recruitment practices support an inclusive approach, recruiting students from a wide variety of backgrounds."
UCLan is also working with a range of clinical and animal handling partners including Myerscough College and University Centre.
Dedicated veterinary teaching facilities are being created on campus, with a partial refurbishment of Greenbank Building set to be completed by Spring 2024 and the new Vet School open in Spring 2025.
© 2023 Marketing Lancashire