Blackpool's first museum reveal name and brand
Source: Blackpool Council
10 January 2020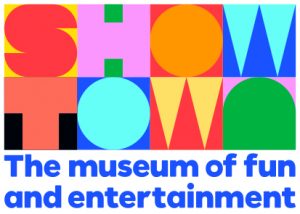 Exciting details about Blackpool's first museum were officially revealed today (Thursday 9 January) at an entertaining and dynamic event held at The Blackpool Tower Circus.
Invited guests heard about the £13m museum's vibrant new name 'SHOWTOWN' and found out more about the colourful, bold and playful brand which reflects the spirit and aim of the attraction to celebrate Blackpool's internationally significant story as the UK's most popular seaside destination and its role in the development of British popular culture.
Showtown, which is anticipated to open in 2021, will be located in Blackpool's first five-star hotel 'Sands Venue Resort Hotel' which has a prominent position on the Promenade in the heart of Blackpool, next door but one to The Blackpool Tower.
Open year-round, the Showtown will be fun, accessible and fully-immersive, filled with objects, film, music and performance – mixing the best experiences of museums and visitor attractions and giving visitors an opportunity to look behind the scenes at what it took to make Blackpool special.
Showtown will be divided into six themes; seaside, magic, shows, circus, illuminations and dance.
Beside the Seaside: The story of how Blackpool became symbolic of the British seaside holiday both at home and abroad and why people flocked to the town.
How's Tricks?: Discover Blackpool's long history as an important centre for magic, illusion and fortune telling.
It's Showtime:  Features comedy, music, dance performance, magic and other speciality acts that put Blackpool on the map and turned the seaside resort into a capital of show business.
It's Better with the Lights On: Discover the stories behind the making of one of the world's greatest light attractions – Blackpool Illuminations.
Everybody Dance Now: Find out how Blackpool became the spiritual home of ballroom dance and continues to host the biggest international dance festival in the world.
Roll Up! Roll Up!: A celebration of Blackpool's international role in circus and home to The Blackpool Tower Circus.
The themed spaces will be the first permanent displays in a UK public museum relating to circus, magic, variety and ballroom dance – filled with over 800 objects from Blackpool's internationally significant and extensive collections and those on loan from national partners, including the Victoria and Albert Museum and private partners.
Objects on loan from the Victoria and Albert Museum include much loved comedian and entertainer Tommy Cooper's headtwister illusion magic trick and costumes worn by comedy stars Eric Morecambe and Ernie Wise. A rare signed black bowler hat, which was owned by film and comedy star Stan Laurel, and acquired by Blackpool Council, will also be on view.
Items will also be showcased from Blackpool Council's, Blackpool Tower and Winter Gardens Archive – the largest collection of entertainment history in the town exploring its 125-year circus history with posters and incredible photographs.
Cllr Simon Blackburn, Blackpool Council Leader said: "Everyone who has worked so hard to make the Showtown dream a reality is so excited as we announce and reveal more details about this fantastic project.
"Showtown will join other iconic attractions in the town and will celebrate Blackpool's rich heritage and its unique place in the nation's heart.
"At the centre of the attraction's new identity is a bright and distinctive logo and brand. The name itself and the strapline 'The museum of fun and entertainment' really reflects the spirit and aim of the museum which is to engage local residents and visitors through fun, laughter and stories, sharing what makes Blackpool special.
"A huge thanks goes out to all the council officers, volunteers, supporters and funders who have driven forward and supported this project which will be enjoyed by hundreds of thousands of residents and visitors alike."
David Renwick, Director, England, North at The National Lottery Heritage Fund, said: "Blackpool is famed for its glittering Illuminations, the thrills and spills at the Pleasure Beach and the fancy footwork seen in the Tower Ballroom, so Showtown is an incredibly fitting name for the museum, celebrating the seaside town's heritage. We're incredibly proud that The National Lottery Heritage Fund have invested in the development of the museum to showcase Blackpool's prominent position in British popular culture, as well as being a beacon for the town's cultural regeneration."
Chairman of the Lancashire Enterprise Partnership (LEP) Steve Fogg said: "We were pleased to be able to provide £1.5m in Lancashire Growth Deal funding to support this prestigious and exciting project.
"This world-class museum is an important component in an impressive portfolio of major, high-quality infrastructure projects supported by the LEP in Blackpool, which include the new conference centre and hotel scheme, the tramway extension and improvements to bridges, traffic management and the town centre.
"We are using our funds strategically to complement and support the hundreds of millions of pounds which have been invested in the renewal of Blackpool in recent years, to unlock further investment and maximise the economic opportunities created for the local community.
"These projects will help attract many more tourists and business visitors to Blackpool, fostering the growth of local businesses, creating substantial employment opportunities and driving economic growth local and in Lancashire as whole."
Minister for the Northern Powerhouse and Local Growth, the Rt Hon Jake Berry MP, said:  "Ensuring our coastal towns have the support they need to thrive is at the heart of this Government's plan to level up every part of the country.
"That's why I'm delighted that thanks to £1.75 million of support from our Coastal Communities Fund that Showtown will help unlock Blackpool's economic potential by increasing tourism, encouraging investment and creating a world-class attraction that will be enjoyed by both residents and visitors for years to come."
Showtown will serve as the jewel in the crown of Blackpool's ambitious regeneration investment plans, enabling culture-led economic growth by providing a memorable, quality and educational venue for visitors, creating new jobs and skills, and by bringing people together to celebrate the Blackpool story.
It is projected that Showtown will attract about 300,000 local, regional, national and international visits each year; engage with 7,500 local school children annually; create around 40 FTE jobs and 20 training placements and play a critical role in Blackpool's re-imagining for the 21st Century.
© 2022 Marketing Lancashire