SEA LIFE Blackpool unveils amazing Annual Pass offer to celebrate 30th Anniversary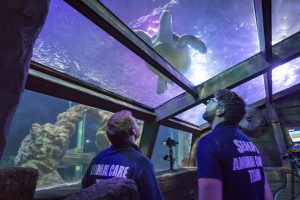 Aquarists at SEA LIFE Blackpool are celebrating its 30th anniversary this year and to mark the milestone they have unveiled their best-ever annual pass offer…for an amazing £16.50.
Yes, that's almost the same price it would have back in 1990 when it first opened!
And it gives you unlimited access to the popular seafront aquarium for an incredible price, not much more than one full-price admission. You can visit the new baby sharks; Phoenix, the rescued sea turtle; and other fantastic creatures as often as you like.
But hurry, there are only limited numbers of passes available.
Matthew Titherington, general manager at SEA LIFE Blackpool, said: "It's a truly outstanding opportunity for families, couples and individual fans of marine life. Pay once and visit all year!
"There's so much to see and experience, like our remarkable newly-born epaulette sharks, who can walk; Phoenix, the rescued sea turtle, who was saved from the food industry in the Far East; and the baby blacktip reef shark twins born at SEA LIFE as the first in the UK, who are now approaching their first birthday. It's incredible value.
"It's our 30th anniversary this year and we've got a whole series of surprises up our sleeves to celebrate. So we're offering this unbeatable deal, so that everyone can join in the fun and celebrations.
"And there's a serious message too. We want everybody to see the wonder and beauty of marine life close up, as well as the astonishing super powers of many of the creatures.
"For people to understand all about ocean life and different species, along with the threats that they're facing and what we can all do to help.
"We're looking forward to welcoming everyone to SEA LIFE Blackpool and joining in the 30th anniversary celebrations. This year's specially-priced annual pass gives a brilliant opportunity to do that.
"It can be purchased at any point throughout the year, although we'd encourage the earlier the better for you to get the most benefit.
"And don't hang around too long, as there are only limited numbers of passes."
The pass is valid until 31st December 2020. It also includes 20% off all shop and gift purchases as well as food and drink, plus exclusive discounts and offers on experiences on special days throughout the year, such as Father's Day, Mother's Day and Shark Week.
Simply bring a proof of postcode and a passport-sized photograph to SEA LIFE Blackpool to purchase your pass.
"This is also part of our 'breed, rescue, protect' programme to increase awareness about ocean conservation and the threats facing sea creatures and their habitats today," added Scott Blacker, head aquarist at SEA LIFE Blackpool.
SEA LIFE Blackpool works closely with its charity partner, the Sea Life Trust, as part of its 'breed, rescue, protect' campaign, to develop and support conservation projects worldwide. These have already seen over 6,600 turtles rescued and rehabilitated, as well as other species.
© 2020 Marketing Lancashire