Boyz On Block, will be dazzling Darwen at the 2021 light switch on!
Blackburn with Darwen Council, Darwen Town Centre and Darwen Town Council are thrilled to be bringing you a weekend of festive cheer and family fun, for Darwen's Christmas light switch on.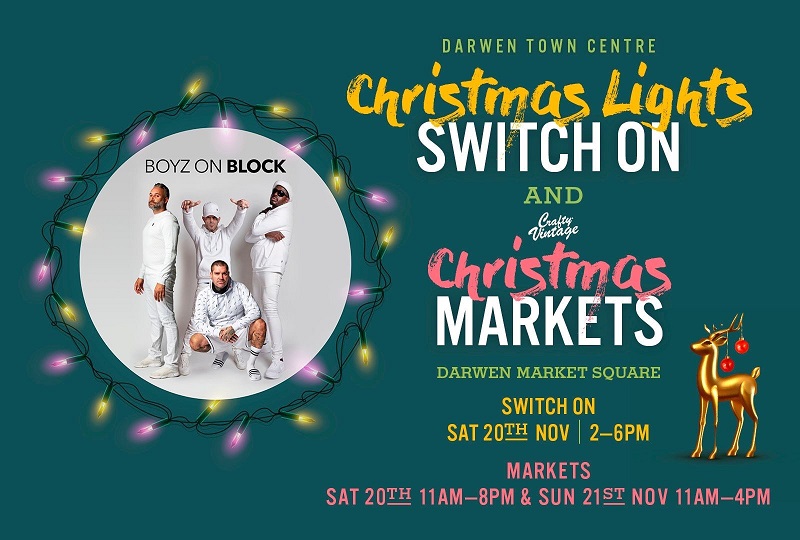 We'll be more than making up for the missed event last year, with a full programme of festivities spanning the weekend of the 20th and 21st November.
The celebrations will begin at 11am on Saturday 20th, when Crafty Vintage's Christmas Markets officially open. You can expect an enticing array of crafters, makers and collectors, including some of our very own Shop Darwen businesses.
It's a wonderful opportunity to do some Christmas shopping, support small businesses and get a festive treat for yourself, too!
Alongside the Crafty Vintage Christmas Markets will be an enchanting variety of free entertainment from 2pm – 6pm, including local singers from Darwen School of Music, gifted dancers from Lancashire Dance Academy, and a magical theatrical performance of The Greatest Christmas Show by Just Imagine. The entertainment will be compered by acclaimed burlesque singer, Kiki Deville.
Then it will be time for our incredible headliner act…
Boyz On Block is a boyband supergroup with heaps of talent. This gifted group is made up of four of the biggest names in the UK and Ireland's boyband history: Shane Lynch from BoyZone, Ben Ofoedu of Phats & Small, AbzLove from Five and Dane Bowers of Another Level. Boyz on Block have sold a whopping 789 million records and had 10 number one hits between them, they're a powerhouse of serious talent and energy.
They launched their first single together last year, the Christmas classic of Stay Another Day by East 17. You can expect to hear this from the Boyz, along with a few more musical treats, while they help us to switch on the Christmas lights and flood Darwen with festive cheer. It's an experience that's not to be missed!
After Boyz On Block has dazzled the crowd, the Crafty Vintage markets will remain open until 8pm, so you can enjoy an evening browse while warmed by our newly illuminated Christmas lights and background vocals from Kiki deVille.
And that's not all, as celebrations will continue on Sunday, when the Christmas markets will be with us on the Market Square between 11am and 4pm. You'll have even more opportunity to purchase unique treasures, listen to music from the stage and enjoy the merry atmosphere while admiring this year's lights.
This will be a memorable weekend of joyful Christmas celebrations and entertainment in Darwen that the whole family can enjoy. Blackburn with Darwen Council, Crafty Vintage and Darwen Town Council cannot wait to welcome you all onto the Market Square on Saturday 20th and Sunday 21st of November.
For all the up to date information on Christmas 2021 in Darwen, please visit www.darwentowncentre.co.uk/events, and www.facebook.com/DarwenTC
© 2023 Marketing Lancashire