Choc Amor is a Great Taste award-winner 2018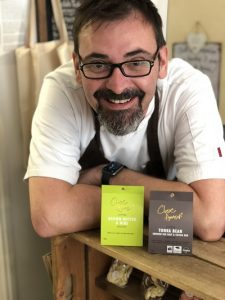 Great Taste, the world's most coveted blind-tasted food awards, which celebrates the very best in food and drink, has announced the Great Taste stars of 2018. Out of 12,500 products to be judged, Choc Amor of Lancashire was awarded a 2-star Great Taste award for its Brown Butter and Nibs in a rich 45% milk chocolate and a 1-star for Tonka Bean in 61% dark chocolate. Choc Amor was one of the biggest winners in Lancashire and the only chocolatiers to win a coveted 2-star.
Both awards are judged by the most demanding palates, belonging to food critics, chefs, cooks, restaurateurs and producers as well as a whole host of food writers and journalists, Great Taste is widely acknowledged as the most respected food accreditation scheme for artisan and speciality food producers. As well as a badge of honour, the unmistakeable black and gold Great Taste label is a signpost to a wonderful tasting product, which has been discovered through hours and hours of blind-tasting by hundreds of judges.
Paul Williams – Head Chocolatier
"This is the sixth year we have entered and the sixth year we have won. 200 winners in all four chocolate categories and we are up there with some of the biggest names in the UK. Winning these have now taken us to 15 Great Taste Awards in total which we are really proud of. Our total haul this year is 6 awards as we picked up 4 at The Academy of Chocolates In London earlier in the year. We would like to thank all our staff for this great team effort and our amazing customers for their continued support."
Recognised as a stamp of excellence among consumers and retailers alike, Great Taste values taste above all else, with no regard for branding and packaging. Whether it is bread, honey, salami or cereal being judged, all products are removed from their wrapper, jar, box or bottle before being tasted. The judges then savour, confer and re-taste to decide which products are worthy of a 1-, 2- or 3-star award.
There were 12,500 Great Taste entries this year and of those products, 192 have been awarded a 3-star, 1207 received a 2-star and 3552 were awarded a 1-star accolade. The panel of judges included; TV chef and author, Valentine Warner, MasterChef judge and restaurant critic, Charles Campion, fifth generation baker, Tom Herbert from Hobbs House Bakery, and Great British Bake Off winner, Frances Quinn; food buyers from Harrods, Selfridges, Fortnum & Mason, Harvey Nichols and Waitrose and chefs including, James Golding, chef director of THE PIG Hotels, and Kevin Gratton, chef director of HIX Restaurants. These esteemed palates have together tasted and re-judged the 3-star winners to finally agree on the 2018 Top 50 Foods, the Golden Fork Trophy winners and the 2018 Supreme Champion.
______________________________________________________________________________
Taste Lancashire
You can find Choc Amor at Cedar Farm and at various events across the county.
Choc Amor is a Taste Lancashire partner, supporting Marketing Lancashire's campaign to raise the profile of Lancashire food & drink nationally and internationally. The campaign also encourages local businesses to buy local, to support and promote Lancashire producers in their shops, on their menus and through their own PR activities.  For more Lancashire producers click here to join our growing list of Taste Lancashire partners click here
You can hear about Paul's career-switch from financier to chocolatier and learn more about Choc Amor at Paul's Talk and Taste sessions as part of Clitheroe Food Festival on Saturday 11th August 2018, tickets just £8.00.
© 2023 Marketing Lancashire