New public space in Preston is on its way
Source: Lancashire County Council
27 March 2019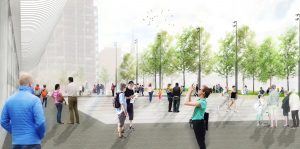 Work is about to start on a new public space next to the iconic Preston Bus Station.
Lancashire County Council is creating a large new public area on the former bus apron, with new seating, lighting and paving.
The aim is to increase the connection between the Grade II-Listed building and the city centre.
Preparatory work has already begun on site, with fencing going up at the southern end of the site, near the Guild Hall.
The main work is scheduled to start on Tuesday, 26 March, and is expected to finish in December 2019.
The entrance near the coach station will close temporarily while this work is carried out. People will need to use the doors at the centre of the building.
This is the final stage in the redevelopment of the building and the bus aprons by the county council, which owns the bus station. It is part of the county council's contribution to the Preston, South Ribble and Lancashire City Deal.
Andrew Barrow, programme manager for the county council, said: "This will be the biggest new public space in Preston for many years. We're planning to create a pleasant and welcoming area for people, on the former bus apron next to the station.
"These plans have been carefully designed to keep and enhance views of one of the city's most well-known buildings, while adding a pleasant new space that can be used for different activities and events."
The improvement work includes new benches, grassed areas and trees, new lighting and signage.
This work is part of the City Deal, an agreement between Lancashire Enterprise Partnership and Preston City Council, South Ribble Borough Council and Lancashire County Council, along with central government and Homes England.
The City Deal will help to create more than 20,000 new private sector jobs and see over 17,000 new homes built across the area, along with new school places, open green spaces and new health provision to cater for the growing population.
For more information, follow City Deal on Twitter @lancscitydeal,
© 2023 Marketing Lancashire