#RedefiningLancashire tourism & hospitality – Marketing Lancashire launches a county-wide recovery plan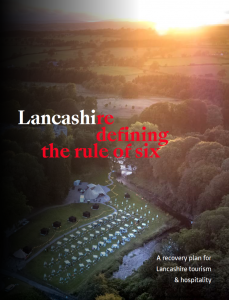 With so much uncertainly still facing the tourism and hospitality industry and as the country awaits the government roadmap that we hope will at least give some more clarity, Marketing Lancashire has today launched 'Redefining the Rule of Six – a recovery plan for Lancashire tourism and hospitality'.
The tactical plan, developed in consultation with Lancashire's local authority stakeholders and the LEP's Tourism, Culture and Place sector group, as well as Marketing Lancashire's Board and Visit Lancashire partners, sets out six key priorities to help the sector through 2021 and into 2022. It is designed to act as a bridge through to the development of an extensive sector development strategy with a view to long-term, sustainable growth.
Rachel McQueen, Chief Executive of Marketing Lancashire says "It is critical that we make every effort to support the sector during this extended lock down, and put plans in place to build consumer confidence as soon as we are able to do so, focused on making Lancashire a must-visit destination once travel is allowed.
"Right now, we need practical action plans to help businesses survive and ensure that they are able to generate maximum income when they are able to welcome visitors back in a safe, covid-secure environment. Lancashire has demonstrated its commitment to the health and wellbeing of both our residents and visitors, with hundreds of businesses signed up to the national 'We're Good to Go' standard. We need to make sure that everyone is aware of what we have to offer across the county.
"Lancashire is 80% rural, with 137 miles of coastline and an incredible variety of attractions and accommodation options. We fully intend to be promoting Lancashire's offer as soon as it is possible for our tourism and hospitality businesses to welcome visitors back."
The 'Redefining the Rule of Six – a recovery plan for Lancashire tourism and hospitality' document is available to download here where visitor economy businesses, keen to know more about the national 'We're Good To Go' scheme, can also find further information
© 2023 Marketing Lancashire