Round table experts brought together to help Lancashire tourism look towards re-opening
On Tuesday 26 May 2020, as part for English Tourism Week 25-31 May, Marketing Lancashire hosted a visitor economy virtual round table, to discuss and answer some of the questions posed by colleagues in tourism businesses across Lancashire, as the industry slowly begins to emerge from the Covid-19 lockdown.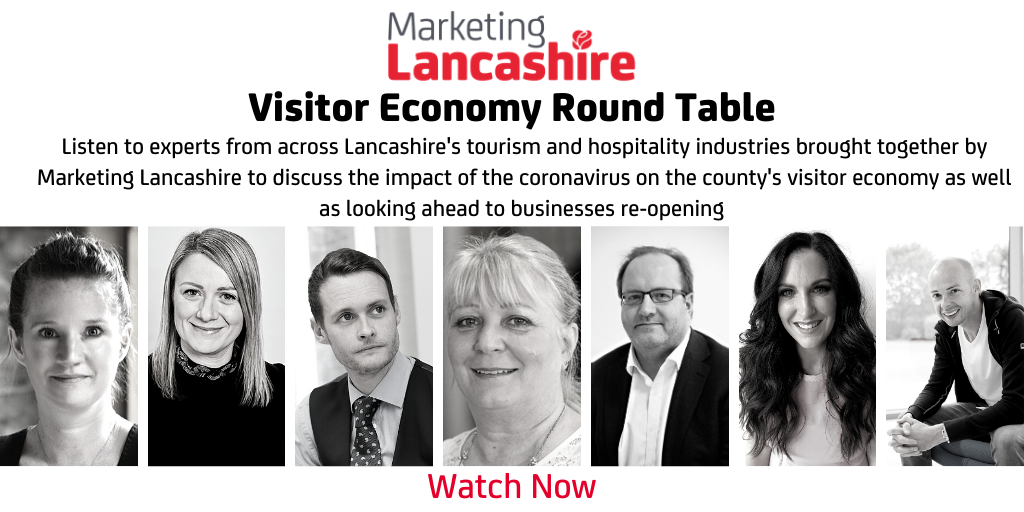 The panel was hosted by Rachel McQueen, Chief Executive of Marketing Lancashire with panellists: Lyndsey Turner-Swift, Head of England Planning and Delivery, Visit Enghttp://https://www.marketinglancashire.com/news/spotlight/visitor-economy-round-table/land; Chris Boyle, Partner and Head of Employment & HR, Napthens; Debbie Chinn, Business Relationship Manager, Boost Lancashire; David Wilson, Director of Public Affairs, British Beer and Pub Association; and Antony and Alison Chesworth, Founders of EKM.
Rachel McQueen commenting, said: "I am very grateful to the panel for bringing a wealth of insight and individual expertise to this timely and important discussion for Lancashire tourism. The subjects discussed ranged from social-distancing to the extension of the furlough scheme, from the benefits of embracing innovative technologies to organisational re-modelling.
"Each of the panellists shared useful industry-specific information or practical strategies for dealing with the return to business, as well as resources available for further support and guidance. Above all, our panellists agreed that businesses should not endure the current challenges alone and that there are organisations able to help and guide them through the current crisis.
"This of course includes Marketing Lancashire, as the DMO (Destination Management Organisation) for Lancashire, we're working very closely with Visit England and Visit Britain to ensure that our tourism businesses are ready to open safely, once government guidelines are issued. With some retail set to open on June 1 we are all hoping for a phased opening of some accommodation and hospitality soon after, to help save and make the most of what remains of the main holiday season."
The round-table discussion can be heard in full and can be found at MarketingLancashire.com, where tourism businesses can also find links to the VisitEngland hub, with tourism-related information relevant to Covid-19 and where the latest government guidelines on re-opening are posted.
© 2021 Marketing Lancashire