South Ribble in Bloom winners announced
Source: South Ribble Borough Council
15 September 2020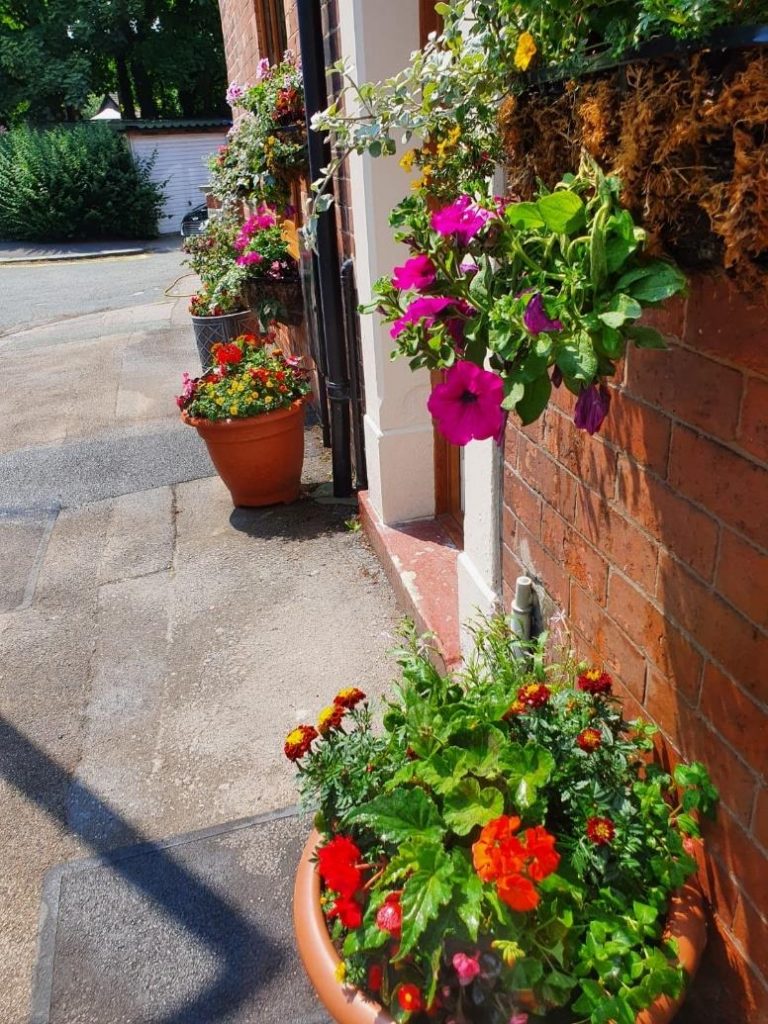 A couple of gardening enthusiasts from Farington have been crowned double winners following the council's South Ribble in Bloom horticulture competition.
Barbara Gardner and May Spiby – a pair of neighbouring residents from Farington – have earned the titles of 'Best Community Garden' and 'Best Container' for their joint submissions, showcasing astonishing flower beds, hanging baskets and colourful combinations.
The annual residents' gardening competition – this year moved to a digital format because of Covid-19 – attracted more than 100 entries spread out over four different categories, with participants submitting four photos per entry, as opposed to the usual judging process conducted in person.
Mrs Gardner and Mrs Spiby impressed the panel of judges with 'a garden that adds infinite colour and cheer to the local area and demonstrates a great deal of attention, care and creativity'. The judges scrutinised all the entries remotely and separately to ensure compliance with Covid-19 safety guidelines.
Elsewhere in the competition, Geoff Wilkinson from Penwortham takes home the First Prize in the 'Front Garden' category; whilst in the 'Business' category, the winners are N & K Harvey Funerals Ltd based in Leyland.
Councillor Aniela Bylinski Gelder, Cabinet Member for Community Engagement, Social Justice and Wealth Building at South Ribble Borough Council, said:
"In spite of everything we have gone through this year, South Ribble in Bloom 2020 has been a great success. We adapted the competition to make it Covid-secure and the people of South Ribble responded fantastically.
"I want to say a huge congratulations to all the winners and the runners-up too who have not only caught the eyes of the judges – your amazing gardens have caught the eyes of the whole community! This competition isn't so much about winning prizes; it's about taking pride in the appearance of your local area and making South Ribble a truly wonderful place to live – with colour and vibrancy in our green spaces.
"Thank you to the council officers who worked hard to create the new competition format this year, continuing the legacy of South Ribble in Bloom which is a really important and much-loved part of the council calendar."
The competition attracted entries from all areas of the borough, such as Leyland, Farington, Samlesbury, Longton, Penwortham, Moss Side, Lostock Hall, and Bamber Bridge.
In normal circumstances, some of the individual areas run their own competition (for example, Leyland in Bloom, Penwortham in Bloom, and Western Parishes in Bloom) ahead of the overall South Ribble in Bloom – but this year, participants went straight into the borough-wide contest.
South Ribble in Bloom runs as an annual competition – but the different areas actually do lots of proactive work in the community all year round, working on projects to spruce up gardens and public spaces right across the borough. Examples of this include nice new planting features at the British Commercial Vehicle Museum in Leyland; improvement works at Leyland train station; and many more.
FULL LIST OF WINNERS & RUNNERS-UP
 

Front Garden

 

1st

Geoff Wilkinson

Penwortham

2nd

Joseph Scahill

Penwortham

3rd

Keith Smith

Leyland

 

Best Container

 

1st

Barbara Gardner and May Spiby

Farington

2nd

Joseph Scahill

Penwortham

3rd

Debbie Ditchfield

Penwortham

 

Business

 

1st

N&K Harvey Funerals

Leyland

2nd

Black Bull Hotel (c/o Janine Vanden)

Longton

3rd

Royal British Legion Middleforth Branch (c/o Samantha Banks)

Penwortham

 

Best Community

 

1st

Barbara Gardner and May Spiby

Farington

2nd

Sensory Garden (c/o Val Watson)

Moss Side

3rd

The War Memorial Hall c/o Gordon Barton Chair

Samlesbury
© 2021 Marketing Lancashire