UCLan hosts match making job fair for local ex-forces personnel
The Work and Health Fair is the first of its kind in the Lancashire area, developed specifically with ex-forces personnel in mind.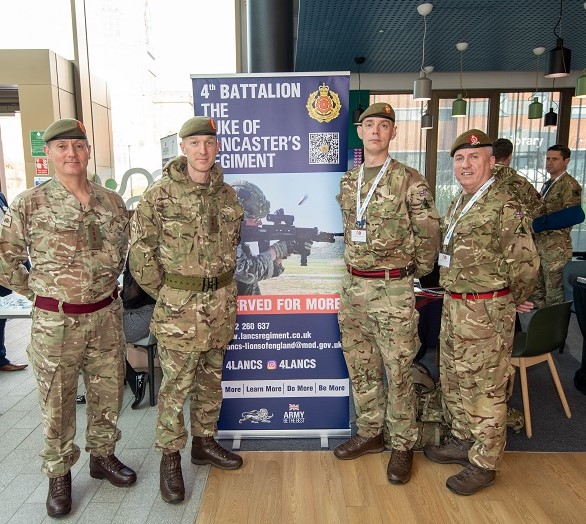 The University of Central Lancashire (UCLan) today welcomed around 100 veterans to our Preston Campus, as the hosts of an event to match up former members of the Armed Forces with new employment opportunities.
For many of the ex-forces personnel, finding work in 'civvy street' can feel daunting after military life, and so the University, Job Centre Plus, the Department for Work and Pensions (DWP) and local councils all worked to bring around 27 employers and employer support organisations to the event. The aim was to give those with an Armed Forces background a chance to make new connections and explore opportunities in a welcoming and supportive environment.
Some employers with stalls at the event included Stagecoach, Capita, Lancashire Fire and Rescue, and East Lancs Hospital Trust. Employment support organisations, such as the Forces Employment Charity and the Poppy Factory, were also present; they provide support for ex-forces personnel, service leavers, and their families around the whole job application process – from writing CVs to preparing for interviews, as well as working with veterans and their employers to overcome barriers and find solutions.
While some veterans have physical injuries sustained while serving their country, others may be dealing with unseen challenges: recent research by the Poppy Factory has shown that four out of the five ex-Forces personnel they work with report a mental health condition.
Gary Shivers, Armed Forces Champion for Cumbria and Lancashire, who organised the jobs fair, said: "This event is designed to support everyone – from those people with complex health issues to those who are job-ready – and is a major steppingstone in showcasing the opportunities that are available to this community. I am overwhelmed at the response from national employers and partners who are showing how the Armed Forces Covenant can work in practice, and I'm sure we can achieve a lot of positive outcomes."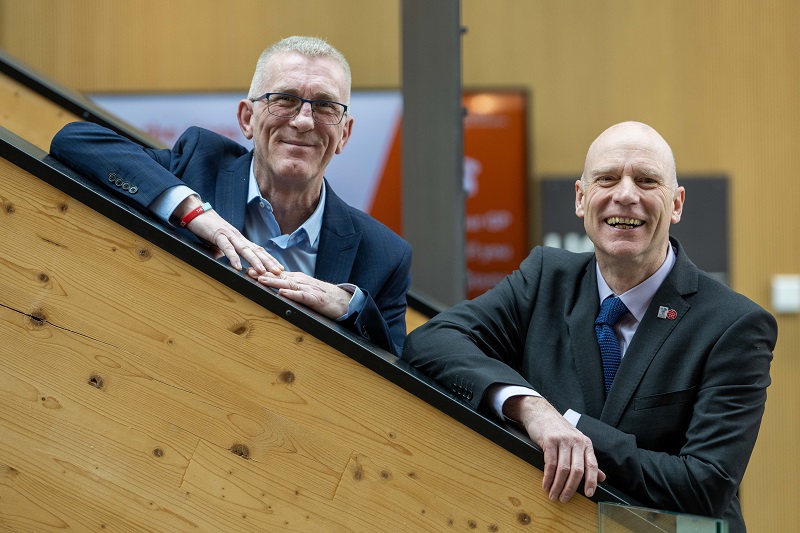 The event took place on Wednesday 15th February in UCLan's new Student Centre, and was opened by Preston Mayor, Councillor Neil Darby. South Ribble MP Katherine Fletcher MP also attended to show her support.
Ian Barber, Project Leader of the Lancashire's Armed Forces Covenant Hub, based at UCLan, said:
"This is another important event in support of Lancashire's Armed Forces community under the banner of the Armed Forces Covenant. It will directly improve the lives of Forces people and shows great collaboration between government bodies such as DWP with private companies and charities alike – all held within UCLan's wonderful Student Centre building."
Nigel Edwards, a former Royal Air Force pilot, attended the event with his wife Alison, who also previously served in the RAF. Nigel said he found the event engaging and felt like there was a lot on offer. Nigel said: "I'm really glad to see such a wide variety of people at today's event. And it's particularly nice to see people coming up to you and engaging – because there are veterans out there who need help. It's a scale: from not much help required to all the help you can give me. And many veterans are highly skilled people who can't get a job because they don't know how to go about it. So, this (event) is really good, and I hope we will see more of them in the future."
For some, leaving the military and losing the daily structure and routine it provides can have a massive impact on their mental health. Kevin Hartley, employment consultant for the Poppy Factory, believes that employers sometimes stigmatise ex-forces personnel, and says that needs to change: "There might be a perception by some employers in the UK that a veteran might be struggling and may need a lot of time off sick. That's far from the case – and actually, increasingly, employers really see the positives that ex-military personnel can bring in terms of skills, such as timekeeping and organisation."
This event was the first of its kind in Lancashire, but the hope is that the event's format will be rolled out in other regions too.
© 2023 Marketing Lancashire