Lancashire redefining travel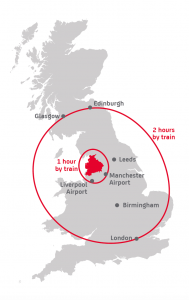 Lancashire is accessible via six major motorways (M55, M58, M6, M61, M65, M66) and an ongoing infrastructure delivery plan as part of the Preston, South Ribble and Lancashire City Deal is continuously improving road links across the county. But whilst it is very easy to get around by car, Lancashire remains serious about sustainability and clean growth.
As well as a growing number of electric vehicle charging points being installed every month, we have been investing in both temporary and permanent cycle lanes so that people can navigate their way around the county by bike. We also have over 260 miles of bridleways, perfect for those wanting to explore on horseback, and of course, as a county that is over 80% rural, our walking and rambling opportunities are endless.
For people looking to travel to Lancashire from further afield without jumping into a car, we are just two hours from London by train, with the West Coast Mainline running straight through the centre of the county and out to Blackpool, where the recently extended tram network will take you from there. Our travel operators, including Avanti West Coast, have been redefining their own services and are ready to welcome people back onto public transport in safety.
Heysham Port is at the heart of the Irish Sea hub and provides close proximity to nearby offshore wind and gas industries. The port, with 1,000 metres of berths, is seven miles from the M6.
Within half an hour of our southern boundary is super port Liverpool where the new deep water Liverpool2 terminal is able to service 95% of the world's largest container ships. 
Lancashire's ten year local transport plan can be found HERE.