Celebrating John Horrocks Lancashire Textile Pioneer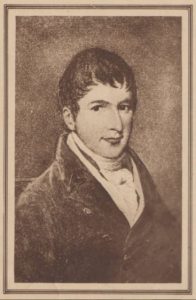 A workshop to celebrate the 250th anniversary of the birth of John Horrocks will take place at Lancashire Archives on Saturday 24 March.
The event, which takes place from 10.30am to 3pm at the offices on Bow Lane, Preston, will include a talk about the life of John Horrocks and the international textile company he founded.
Visitors will have the opportunity to find out about how Horrockses, set up by John Horrocks in 1791, became one of the largest cotton manufacturing sites in the UK.
People will also have an opportunity to watch a film about the company, listen to recordings from the sound archive, and view an exhibition featuring some of the Horrockses historic records.
The role played by working wives and mothers in the cotton industry will also be discussed.
This workshop is being run in partnership with the Friends of Lancashire Archives.
County Councillor Peter Buckley, Lancashire County Council's cabinet member for community and cultural services, said:"This is a great opportunity to find out about John Horrocks.
"The workshop will give people a real perspective on the era."
The workshop costs £5 to attend and booking is essential as places are limited.
To book your place telephone 01772 533039, email record.office@lancashire.gov.uk, or pop in at Lancashire Archives.
For more information visit www.lancashire.gov.uk/archives
© 2018 Marketing Lancashire